City Lights - Speechless Blogathon
               The first silent film I ever saw was "The Artist" (2011). For someone who loves movies so much, that sounds strange, but I've also never really known where to start with the older works. The Artist gave me an idea of how the films of that era were made and did generate a curiosity for them I'd never had previously.
                When I saw that Eternity of Dream was inviting bloggers to pick a silent film to blog about, I had to participate. After a few emails, I agreed to take a chance with Charlie Chaplin's "City Lights," recommended by Lesya, the host of this project. It's difficult to find the right words to describe a work that uses none.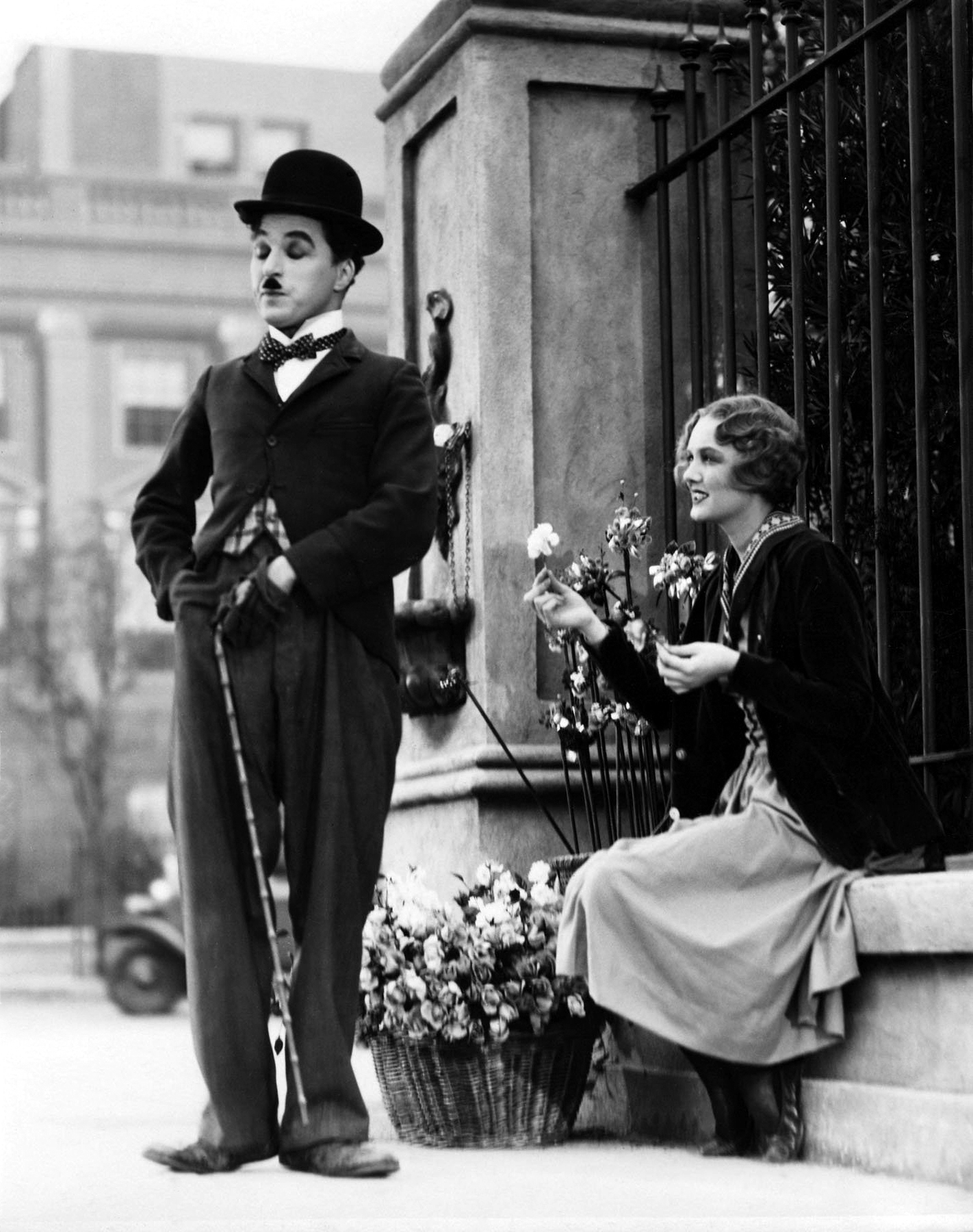 I have to admit that I was excited about finally seeing Charlie Chaplin, one of the legends of film; but also, afraid that I might be bored by a silent production. Even though I loved The Artist, it was a contemporary homage in the style of silent films; an excellent reproduction but not the same. It was too smooth and polished to give me the authentic experience of how films were shot and edited at the time.
                As soon as City Lights started, I was captivated. The credits present a small cast of nameless characters, described by specific traits. We have The Tramp (Chaplin), a blind flower girl, a rich man, his butler and a prizefighter.
                Today's films seem so overloaded, (Ocean's trilogy, Expendables, Avengers) just having a smaller group to focus on was a nice change. Replacing character names with roles was an interesting tactic.
                The Tramp prevents a rich man from killing himself and becomes his drinking buddy. They have a great time and he invites the Tramp into his home to stay. The next day, the sober millionaire doesn't recognize his new friend, and has his butler kick him out. This continues in a loop and becomes the basis of the men's friendship.
                 After getting the boot, the Tramp runs into a blind flower girl, who lives with her grandmother. He learns that an operation can restore her sight and makes it his mission to help her.
                 Watching this as my first silent film (and first Chaplin) has altered my perception of what filmmaking was and what it can be. Chaplin starred, directed, wrote and composed the score of the film. Every vital element to the experience being heartfelt and entertaining was in his hands and he did an amazing job.
                  Chaplin's Tramp character is iconic and it's easy to understand when he first appears; he's a living cartoon. He's made of animated movements, expressive faces, ridiculous eyebrows, a trademark mustache and slapstick comedy all in one package. The subtle traits that define the Tramp are a pleasure to watch. His penguin-like waddle is comedic yet classy and he gracefully twirls his cane around, the way Fred Astaire would later dance with an umbrella. He makes a prop an extension of himself, so much, that I can't think of him without it.
                  Even though silent films have occasional text on screen, for dialogue, City Lights feels like it didn't need much. The passing of time was the only instance when I really needed to read. Every actor in this film conveyed so much physically, I never felt confused or even missed hearing dialogue. There was an interesting Charlie Brown style effect that mimicked throat noises when anyone spoke.
                  I can't say enough about how amazed I was by Chaplin's skills to do so much, so well. This felt like watching a theatrical play that was filmed with a camera. There was a great sense of fluid movement and the score seems to come from an orchestra pit.
                  I'm now a Chaplin fan and have a new appreciation for silent films. Thanks to Lesya for suggesting this to me. I would never have had this experience otherwise.